Become Magic
---
Intuitive Consult | Life Stylist
MODERN LUXURY HAWAII, MAY/JUNE 2013
Like Magic
By Kai Anderson
Shani Odo had it all. Originally from the Bay Area, she had jumped into luxury retail in Honolulu at age 19, working her way from the bottom up. Success eventually followed suit, earning her lucrative stints with Chanel, Bottega Veneta and Prada. But as with many success stories, something was missing. "I had the Mercedes, the big house, all the things that looked good," explains the chic mother of two. "I was hungry for something more."
Eventually, Odo shelved her career, left her marriage and moved out on her own. A new path emerged out of the challenging journey, leaving her all for the better. By the end of 2012, the Honolulu resident made the final leap and launched
Become Magic
, via which she provides services as an Intuitive Consultant and Life Stylist.
After more than 10 years of offering on-the-side guidance to friends, this stylish lifechanger now helps clients in Hawai`i and on the mainland reconnect to themselves and create the life they want. But it's not always cuddly pats on the back. "I connect people with their truth and, sometimes, it's not comfortable," she explains. With razor-sharp guidance, she cuts through the quagmire of confusion and self-doubt, giving her clients a clear perspective and, most importantly, developing a strategic plan for their future. At the same time, her lively, infectious personality and smart sense of humor make even the most intimidating obstacles entirely manageable. No wonder, then, that Odo's already attracted everyone, from businesspeople to musicians, to her clarion call. -KA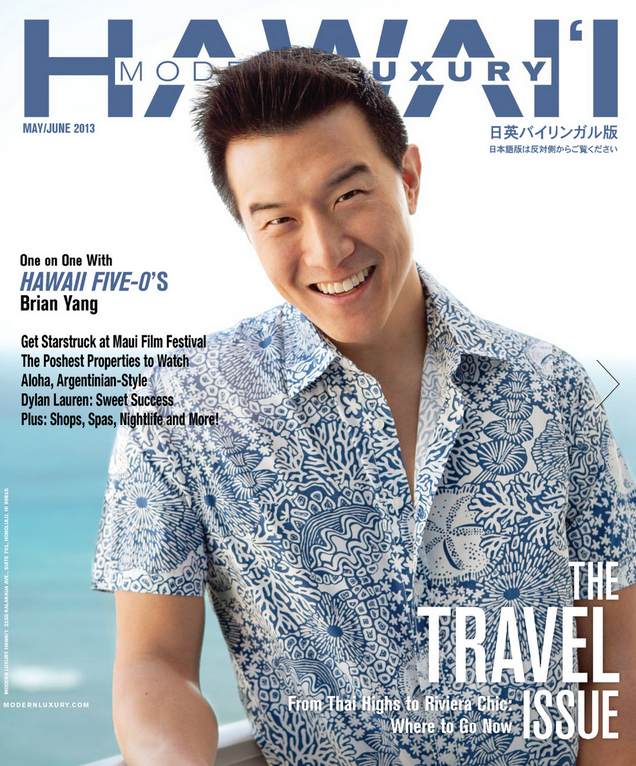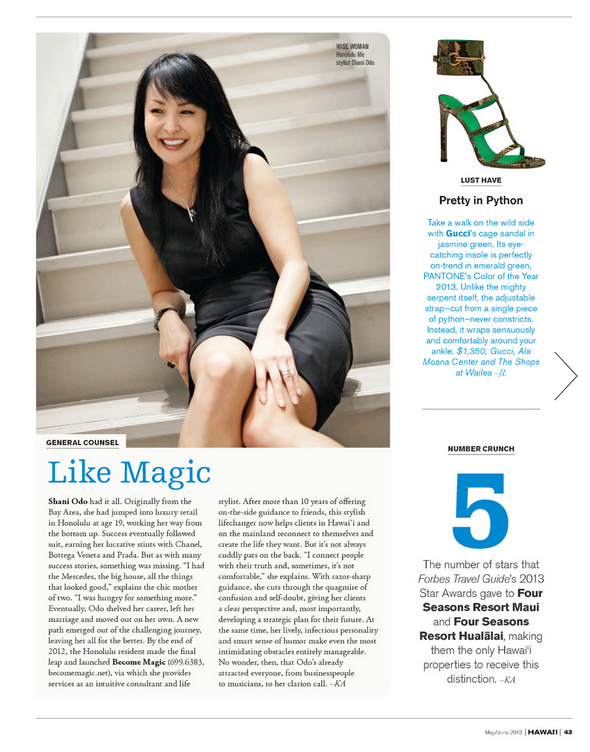 OAHU INSIDE OUT, MARCH 2013
Magic Woman

By Simplicio Paragas
Do you believe in magic? Shani Momi Odo does. But don't expect the intuitive consultant to pull any Houdini-like tricks. Nor will she read tarot cards to foresee the future. Six years ago, Odo went on a spiritual journey that led her to where she is now: an office in the Kaimuki Professional Building.
Once a manager for such luxury retailers as Chanel and Hugo Boss, Odo abandoned a lucrative career in the corporate world to seek of her authentic self. Sitting in her 100-square-foot office with the smell of aromatherapy wafting over the wall from an adjacent office, the petite San Francisco native explains what it means to be an intuitive consultant.
"I don't pull rabbits out of a hat; I'm not that good," Odo laughs. "This is not a dog-and-pony show. I see myself as a means to an end, as someone who holds peoples' hands as they take their own self-directed journey."
Odo's own path started after she and her husband divorced, and she lost temporary custody of her two daughters. Shattered and faced with the prospect of returning to California, Odo instead decided to fight her demons, attending drum therapy sessions and other alternative types of healing.
"It was like looking for a needle in a haystack," says Odo, referring to the dearth of available options outside of traditional psychotherapy. "I was open to anything but everything I tried didn't resonate with me."
Odo makes it clear that she's not a psychic, distinguishing herself as a person who merely taps into her own inner intuition. Without sounding like some new age mystic goddess, Odo describes how she "vibes" with her clients, who include motivational speakers, artists, film producers and other healers.
"I can count on her honesty, straightforwardness and no-holds-barred mannerism in all she does," writes Char Ravelo, wellness coach and editor of Inspiration Journal. "She is a heartfelt intuitive who might just kick your butt. Be careful what you ask for…she delivers."
Hourlong sessions with Odo can be cathecting. She listens. She advises. She offers solutions. And she empowers.
Odo claims we all have intuition and her goal is to get her clients "in touch with their own magic."
"I've been interested in spirituality and intuition for a long time," Odo says. "All of us can use re-adjustment. I try to help people get centered and find their own intuition and use that as a compass. I know I'm not going to change the world in this shoebox office in Kaimuki and I know I'm not going to get rich doing this, but I'm already rich in a different way and it feels magical."